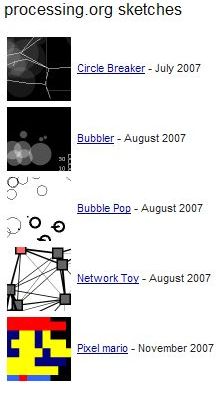 I'm was going through my personal site and doing some cleanup this weekend when I noticed something; all the sketches shown in
this image
come from one part of last year. Around the end of summer in 2007, I made a commitment to break my internet habits and stop all non-essential browsing (pretty much any browsing immediately necessary for programming). Right around the time, that is, of one of my longest bursts of technical creativity.
I talk a lot about wanting to create more. Games, art projects, arduino and physical interfaces, financial modeling and automated trading, adapting ideas from software writers I respect and admire (see
Richard Gabriel - Conscientious Software
[PDF])... Gah! It doesn't get done when my browser is filled with eight tabs of Reddit articles and blog posts.
I've produced some things I'm proud of but right now I've got ideas languishing for want of the time and motivation to give them life. It's time to back out again. Not so much quit internet cold turkey, because there's some value in knowing what's happening in the world and in the community I'm trying to get into (which spends a lot of its time on the web). I am ready to turn off the "show me something interesting" news, however. I am in an attention deficit situation, and that must be rectified.
What would I do with a summer sabbatical from distraction? Let's hope it can last.